i'm officially full term now - 37 weeks pregnant. it seemed to come out of nowhere; it seems like just yesterday we were getting the ultrasound where we learned that we're having ANOTHER boy, and all of a sudden, here we are, and i realized we haven't done ANYTHING to get ready for this baby. whoops. i guess things like that can sneak up on you when you've got other children to take care of - between homeschooling trevor, swim classes for both boys, and doing my best just to get through every day w/ the pain i've been having this pregnancy, i just haven't had the time or energy to do the things that needed to be done before this newest addition arrives.
well, that all changed this past weekend. i enlisted my husband's help in setting up the crib and rearranging the kids' room to make it fit. it took us a little while to remember how the crib is supposed to get put together, and i still need to find info on retrofitting it to make it so it's no longer a drop-side crib, since those aren't considered safe anymore. but the baby's "corner" is set up and ready for him now: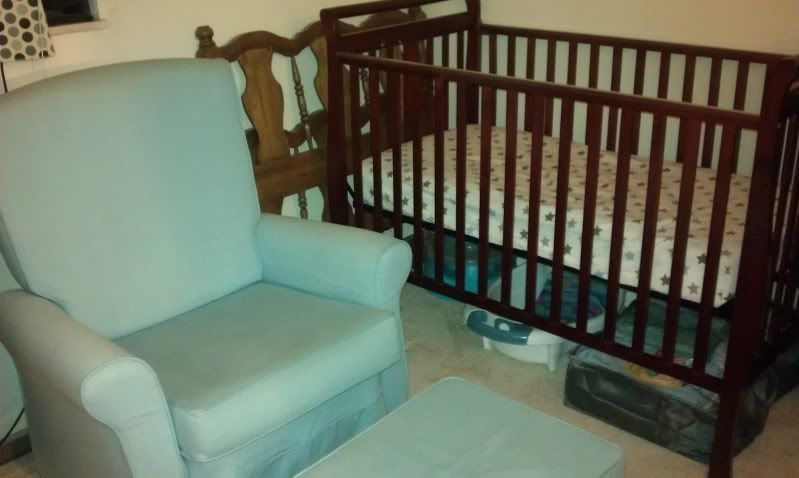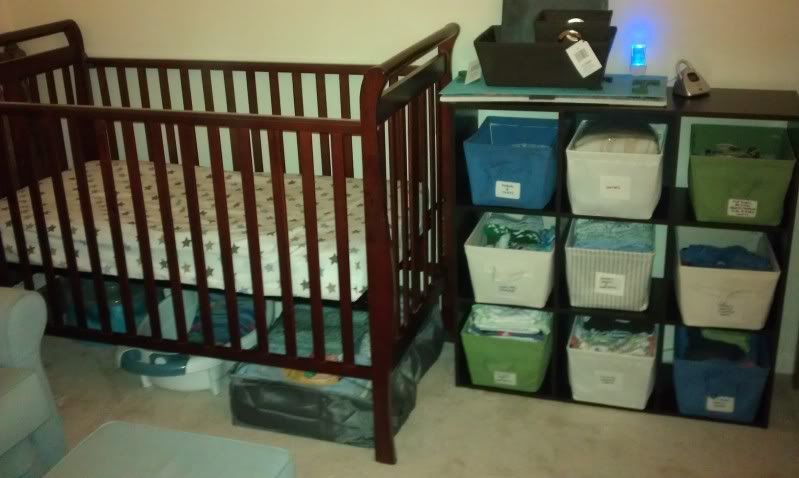 rather than buying yet another dresser and trying to find a place to put it, we decided to use the 9-cubby shelf we already had and just get more bins for storing clothes. i think it's gonna work really well, PLUS it's super cute. :) we also got a couple of under-bed bags for things like blankets and sheets to that we don't have to worry about finding a place to store those bulkier items. it was a smart move - i spent about $50 on things for this baby's room (5 canvas bins and 2 under-bed bags; we already had a few canvas bins for the shelf) instead of hundreds on a dresser that we don't actually have the room for. :)
the kids has a blast this last couple weeks w/ helping me make goodies to give to the nurses in the hospital when the time comes for me to actually have this baby. we forgot to get pictures of everything we made, but that's ok. i got all these recipes from pinterest -
monster magic cookie bars
(though we didn't have any m&m's, so i doubled the amount of chocolate chips),
nutella no bake cookies
,
jello cookies
, and
self-frosting nutella swirl mini cupcakes
.
nutella no bake cookies
self-frosting nutella swirl mini cupcakes
we made up 5 plates of treats - 1 for the l&d nurses, and 4 for the nurses in the mother/baby unit - and stuck them in the freezer so they'll be ready to go when we need them. we made sure to put a little of everything on each plate - and we sure weren't disappointed when there were extras for us to enjoy! :) the kids weren't big fans of any of it except the jello cookies. i'm going to have to educate their tastebuds on the wonders of nutella. they just don't seem to know what they're missing!
last up on our preparations for this baby was a
maternity photo session
w/
tamie peterson photography
. i LOVE how these turned out! i was worried i'd end up looking like a giant magenta blimp, but i didn't. i just look happy and pregnant, which was what i wanted. i'm so glad to have talented friends to help capture these moments in our lives! :)
all that's left to do now is install the carseat and have the baby! :)