we had an AWESOME weekend - jon got friday AND monday off this year, so we had lots of time to spend as a family and enjoy the holiday.
of course, we made sure to remember what it's really about - not the bbq's or swimming or anything like that - it's to celebrate our veterans, the living and fallen heroes who've sacrificed so much to make our country what it is today: free! we have the freedom to choose our religion or no religion at all. we have the freedom to say what we want. we have the freedom to read/watch/listen to what we want. we have the freedom to support OR loathe our government and the leaders that have been elected. we have the freedom to vote for those leaders so we can find ways to make the changes we think are best. in all, we have the freedom to live our lives the way we see fit. and it's all thanks to our military, past, present, and future - those who's survived and those who haven't.
i'm so lucky to be able to say so many in my life have served their country. countless friends, cousins, an uncle, my dad, and my husband. we've faced war, last-minute deployments to the other side of the world, and so much more. i even gave birth to our 2nd son w/out my husband there b/c he was defending freedom in the middle east. we've made countless sacrifices, as have hundreds of thousands of other military families over the course of our country's history, but it's all been worth it b/c we believe in our freedom. we believe in our RIGHT to that freedom, and we believe in fighting to keep it after it was so hard-won back in the 18th century. we owe it to our predecessors, ourselves, and our children to keep working for a free nation so that we can give the generations to come the best life possible.
so what did we do to celebrate? we spent time together. we don't get that chance as often as we'd like, so we made the most of our weekend. after having been through 2 deployments, we make sure to treasure every moment we have together. my husband isn't in the military anymore, but we will always remember the lessons we learned while he was serving his country. we treasure our family above everything else in our lives, so we make sure that when we get to spend time together, we make the most of it.
friday, jon and the boys went for a ride on the train. they went downtown to see a little bit of the denver day of rock. the kids were SO excited when daddy took them to the dollar store to get glowsticks AND necklaces; they were over the moon when they stopped at mcdonalds for some fries before heading home.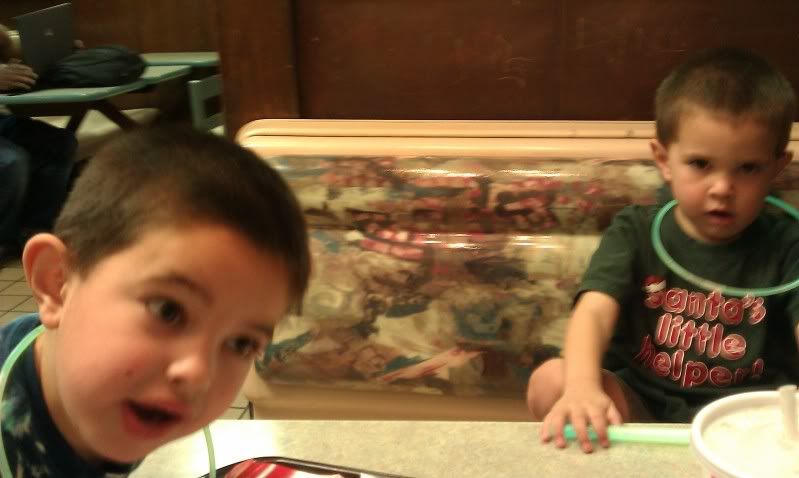 on saturday, we spent some time getting things set up for the baby who's set to arrive any day now. i'll save that for a later post though. :)
as usual, we went to church on sunday and spent the afternoon at home, just enjoying each others' company.
monday morning was one of my favorite ward traditions: the memorial day picnic breakfast. they had eggs, bacon, pancakes, and fruit for everyone. after we had our fill, the kids got to play on the playground for a while before we headed home.
we rested for a while before the kids INSISTED they needed to go back to the park - jon took them while i took care of a few things at home.
when they got back, we decided to go bowling -
fun city
has bowling for $1/game on mondays, so we decided to take advantage of that. to be honest, i should have just watched; bowling at nearly 37 weeks pregnant was definitely NOT the smartest idea i've ever had. i grannied it most of the time, and that was fine. it was when i decided to try and bowl "properly" that i had issues - i lost my balance and almost fell. in trying to keep myself from falling, i hurt myself worse than if i'd just let gravity have its way w/ me. after that, i let the kids bowl most of my frames for me.
afterward, we headed over the food court at the mall for dinner. of course the kids LOVED that - chickfila is probably their favorite place in the world these days. when we'd finished dinner, we headed to nella's for some frozen yogurt.
at that point, it was time to head home and get the kids cleaned up - we'd had a long, but fun-filled weekend. a bubble bath and a good night's rest was exactly what the kids needed to finish off a great family weekend. :)